We're celebrating this landmark with a look back to 1991.
Firstly, some history – The company was set up by Malcolm Hawkesford in 1991, and grew into a multi office business. His son, James Hawkesford took over as head of the firm in 2008, the Warwick office is run by James's sister Ali.
Some staff members have a long history with Hawkesford. Carol Pare recently retired having spent over 25 years with the company.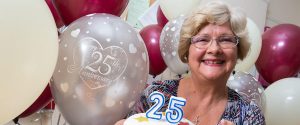 Lettings Director Pauline Carrera-Silva has been with us for more than 20 years now.
We're busier than ever at the moment with Sales and Lettings Teams in our each of our Leamington, Warwick and Southam offices, as well as a base on the Channel Island, Alderney. We've recently celebrating winning three gold British Property Awards.
So, what was different about Hawkesford in 1991? Then, when people came in to request property details they were photocopied with the photos stuck on. We haven't gone fully paper-free in 2021 – but our online presence plays a huge part in our sales and lettings business and we use videos and tours to help market our properties in a way that would be unimaginable 30 years ago.
Do you remember 1991? Top films included The Silence of the Lambs, JFK and Thelma and Louise. Bryan Adams spent a long 16 weeks on the top of the charts with (Everything I do) I Do It for You and Tottenham won the FA Cup after Paul Gascoigne limped off with an injury that would change his career.
We're proud to have been an established company for 30 years, the knowledge and expertise we have built up over that time means we can serve our customers with reliability, professionalism and pride.